Interreg MED BLUE DEAL
Indaco2 is among the project partners of the Interreg MED Blue Deal Project.
The general objective of BLUE DEAL is to increase transnational activity of innovative clusters and networks of the Blue Energy (BE) sector.
The BLUE DEAL project will increase the prospects of devising, designing, and concretely implementing and assessing BE plants and plans in the Mediterranean (MED) area, working in parallel on both aspects of improving the innovation capacity of Small Medium Enterprises (SMEs) and of delivering information and instruments to local authorities for decision-making in the BE sector.
Relying on the past experience of the projects City-Zen and MAESTRALE, that have already successfully performed participative activities with local stakeholders and citizens, the BLUE DEAL Labs are aimed at increasing knowledge on the exploitation of marine resources by means of different available technologies, and at offering methodological instruments and web-based tools for including BE in planning practices, coastal management and marine governance.
On the other hand, the early engagement of stakeholders and SMEs during BLUE DEAL Labs is crucial to meet the networking objectives of the project and build transnational and regional BLUE DEAL Alliances.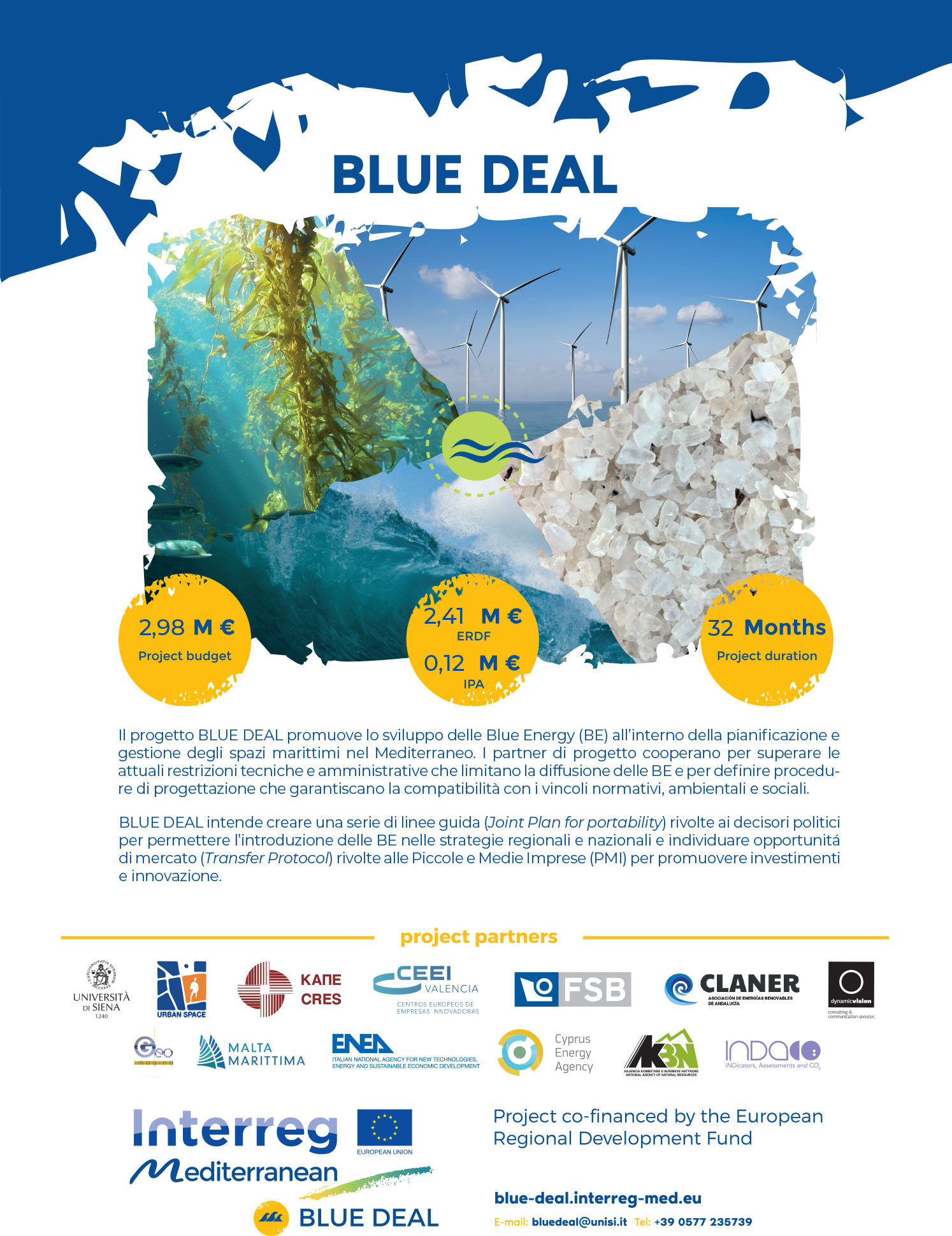 Click on the picture to go to the project website.
The main objective of the BLUE DEAL Labs is to engage stakeholders, local authorities and citizens in processes of knowledge transfer, capacity building and participative planning in the sector of Blue Energy. Given the early stage of BE technologies, proper information to deliver consistent strategies, plans and regulations in the BE sector are still missing; this often compromises public-private initiatives for exploiting marine renewable energy and discourages investments.
On the other hand, many technical and administrative restriction impair the BE deployment, that could be overcome by the definition of proper requirements and procedures to support decisions and guarantee compliance with regulatory, environmental and social constraints. The challenge of the BD Labs is to fill this knowledge gap, their aim is to sketch a BE plan in target regions in order to support the regional Blue Deal Alliances.